Return To Forever : A Night To Remember (The Event of a Lifetime)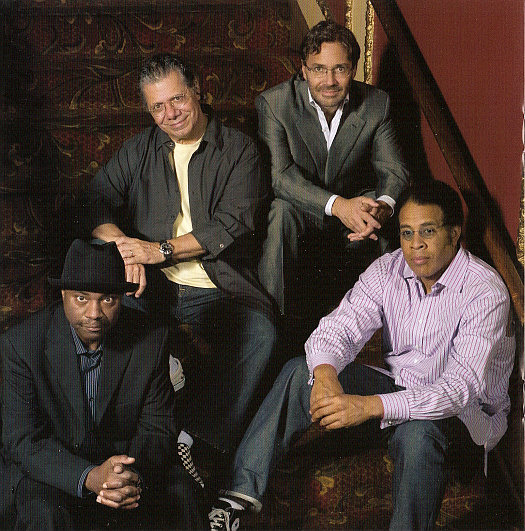 When
: August 5. 2008
Where
: Mann Center for the Performing Arts, Philadelphia. PA

4 Musicians
4,000 Fans (approximately)
1 Magic Night
In thinking of how to write a review of what was indeed the most monumental night of music I've ever witnessed, I could hardly think of adequate words to describe what took place this historic night. Historic for me personally, as it was to date, the best show I've ever seen, and historic in the sense that four legends of the fusion world were reunited on stage, to play to the fans who were with them along the way, as well as new fans gained over the years during their absence from the music scene AS Return to Forever. I decided to simply speak from my heart, and from the perspective of not only a fan, but an appreciator of good quality music.
The evening began right on schedule at 8pm with the introduction of the opening act, Bela Fleck and the Flecktones....seriously talented fellows in their own right, fronted by Fleck (with his amazing banjo prowess), along with the wonderful Victor Wooten on bass, Futureman on the inventive and revolutionary Drumitar (a guitar-shaped instrument able to replicate the sounds of an entire drum kit) as well as the "Roy-El" (a keyboard-type instrument that is capable of creating polyphonic sounds and modeled after the periodic table of the elements), and the renowned Jeff Coffin on saxophone. These guys put on an amazing show in their allotted hour to set the stage for the event people were REALLY there for...the "reunion" tour of Return to Forever.
After a half-hour intermission between acts, the anticipation in the venue was palpable. At 9:30pm when the lights dimmed and Return to Forever took the stage, rousing applause and screams of appreciation, along with a collective standing ovation heralded a night of music and magic that was to unfold for all who attended.
The opening song, "Hymn of the Seventh Galaxy" brought the four musicians, Chick Corea on piano and keyboards, Al DiMeola on guitars, Stanley Clarke on basses, and Lenny White on drums together in what can only be described as pure chemistry. The band were, from the outset, in top form, and their collective musical virtuosity evident.
Next on the setlist were "Vulcan Worlds", then a rousing performance of "Song To The Pharaoh Kings", after which was "Sorceress". Then the performers dropped their electrified instruments for acoustic ones and delivered an outstanding rendering of "Romantic Warrior", which was the last song...but not least...the audience response to the show was a standing ovation and signaled an encore, which the band happily provided, in the form of "Dual of the Jester and the Tyrant (Parts 1 & 2)".
It may seem like a very short concert from the very short setlist, but I assure you it was not. The band played a full two hours, building in a lot of opportunities to improvise and show off their full range of talents. I lost count of how many chills-inducing moments there were, as well as how many time I myself screamed and applauded the sheer mastery and virtuosity of these legendary musicians. Each song lasted in excess of twenty or more minutes, and demonstrated just why these fellows are considered the top of their game in the fusion genre.
I may also note that a quite interesting cross-section of races, genders, and ages were present at this show. Music is indeed the universal language and common denominator that connects people, and you could just feel a sense of brotherhood among those who have come to know and love Return to Forever over the years. Also interesting were the parents who brought teenage children to this show...probably to acquaint them with "true" talent as opposed to the pop-culture icons of the day.
One moment I particularly enjoyed was between two of the songs when Lenny White spoke to the audience, and made reference to the supposed "boy bands" who "don't play any instruments" and then in a humourously self-aggrandizing fashion referred to RTF as a "man-band". This was met with laughter, cheers, and applause.
All in all, this show was a momentous night of monumental talent and magic...the kind only a band like Return to Forever can weave, with its intricate rhythms, technical prowess, and ability to play music that draws the audience into the world they have created. And when the show is over and you leave that world, you don't really "leave" it...it stays with you, the tunes rolling around in your head for hours and days, enriching you and reminding you of the memories that were made that night you saw them.
I have a feeling this is one of those nights I shall remember the rest of my life...I was glad to have shared this with my soulmate and partner in life, BlackwatchPlaid (Pat to most of you here). I am also glad to have the opportunity to write about it here, so those interested may know a bit of what the night was like, to be there in that moment.
Return to Forever have made their way into the top ranks among my favorite bands of all time, and deservedly so. They set the bar high for not only themselves, but for those who were to follow in their footsteps. They are heroes and idols and yet display a degree of professionalism and humility that you rarely see in the music industry. No one member attempts to overshadow or out-do their bandmates...they willingly step aside at regular intervals to allow each other their proper moment in the spotlight. It's a true testimony of the gentlemen they really are, and a treat for fans, because you get to see all of them do what they do best, and what others in the genre aspire to be.
Truly, the best show I've attended, bar-none, hands down, full-stop!
-- Review by
FlowerJewel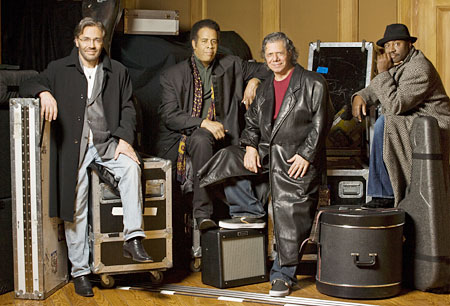 Set List
:
1.) Hymn of the Seventh Galaxy
2.) Vulcan Worlds
3.) Song To The Pharaoh Kings
4.) Sorceress
5.) Romantic Warrior
6.) Encore: Duel of the Jester and the Tyrant (Parts 1 & 2)
STAY TUNED FOR MORE!